Extra virgin olive oil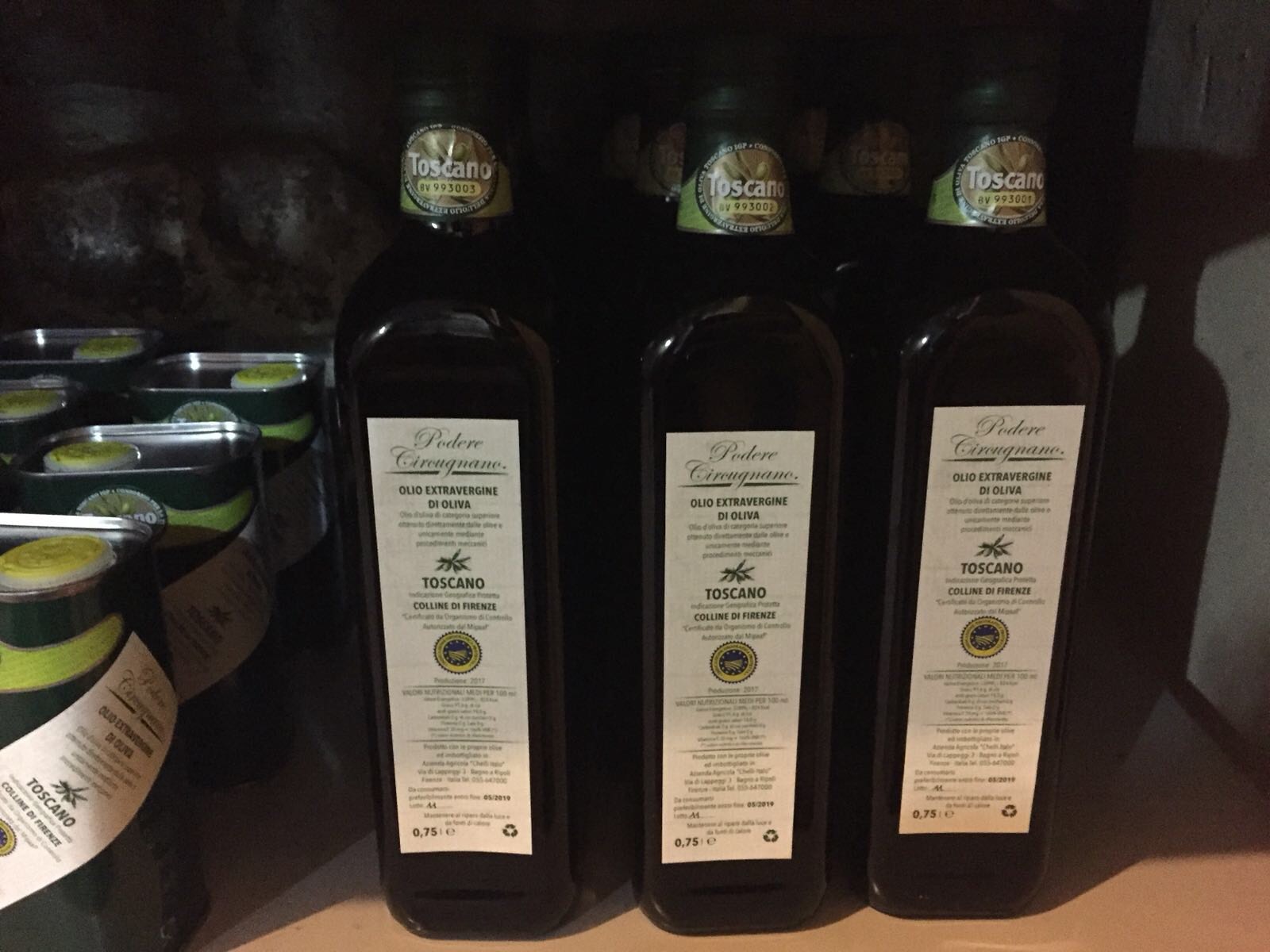 The production of the oil is followed directly from the pruning of the olive trees according to the "polyconic" vase method.
The "brucatura" takes place exclusively by hand, at the right point of maturation, coming from centuries-old plants mainly of Frantoio, Moraiolo, Leccino, Leccio del Corno and PENDOLINO varieties, cultivated and cultivated by the Chelli family from nowadays old generations.
The olives are then transported within a few hours from the harvest to a local mill for pressing, using a cold pressing method.

Over the years our company has participated in various competitions on oil, we have received several awards, as well as the last: City of Bagno a Ripoli 1st Place - Competition Gocciola d'Oro Prim'olio 2017.

The olives maintain their freshness unchanged, allowing each year to produce a quality oil with a very low level of acidity, with vitamins (A, D, E) and nutritive principles and a reduced amount of peroxides.
The product obtained is of excellent quality for its organoleptic characteristics, is rich in fundamental polyphenols to delay the aging process of the oil, carrying out an antioxidant action in the human body, a bad anti-cholesterol and anti-tumor.

Evaluations made by panel heads: intense fruity green olive. Pleasant notes of fresh almond, plus notes of artichoke with marked herbaceous notes. The taste comes with a note of fresh fruit (almond), intense spicy and medium bitter.

COLORI OIL COLLECTION OF FLORENCE: PASSION, CREATIVITY AND KNOWLEDGE Frantoio, Leccino and Moraiolo: three extra virgin olive oils MONOVARIETALS that speak different languages.
The Frantoio with its bitter notes, the delicate and fragrant Leccino, the Moraiolo with its green and balsamic nuances to satisfy every palate, even the most demanding, expert and refined.

The oil is subsequently filtered and packaged directly in the company both in glass containers and in cans.
The cuts are as follows:


lt. 0.10
lt. 0.25
lt. 0.50
lt. 0.75
lt. 1.00
lt. 3.00
lt. 5.00


The labels, annually authorized by the various control bodies, show all the information about the quality of the product and the precautions and warnings for the protection of consumers.

Our extra virgin, healthy, genuine and nutritious oil has a bright green color and an intense aroma, typical of Tuscan oils.